Enter your details to get prices and information (all non-binding)
First Aid Course Stuttgart in English
First Aid Course for Driving License
First Aid Course in English in Stuttgart city centre
Free Eye Test for Driving license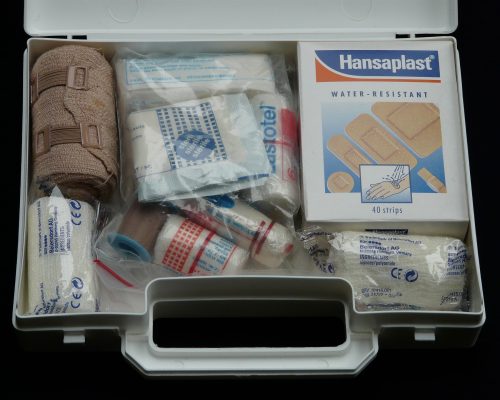 Eye Test for Driving license
The eye test for a driving license in Germany typically consists of two parts: visual acuity testing and peripheral vision testing. The visual acuity test measures the applicant's ability to see objects clearly at various distances. The applicant is required to read letters or numbers on a chart placed at a certain distance in front of them. The chart used for the test usually follows the Snellen chart, which is a standardized chart used for measuring visual acuity.
The peripheral vision test measures the applicant's ability to see objects located outside the central field of vision. This is important for detecting hazards while driving, such as pedestrians or other vehicles approaching from the sides. During this test, the applicant is required to identify objects located at the edges of their visual field
German Theory Test App in English
German Driving License Theory Book English pdf
Driving License Conversion (Umschreibung)
Check below to know what rule applies to which US state.
Using a foreign driving licence in Germany
If you already have a license, you can drive any vehicle legally in Germany with your existing license for 185 after residing in Germany after 185 days you must exchange the licence from your home country.
Countries with an agreement with Germany for the exchange of driver's licenses
Countries with driving license swap
Albania
Andorra
Australia
Bosnien & Herzegowina
Canada
Faroe Islands
Gibraltar
Guernsey
Isle of Man
Israel
Japan
Jersey
Kosovo
Moldova
Monaco
Namiba
New Zealand
San Marino
Serbia
Singapore
South Africa
South Korea
Switzerland
United Kingdom
USA (See individual state)
Driver's License Information for US Citizens in Germany
Alabama
Arizona
Arkansas
Colorado
Delaware
Idaho
Illinois
Iowa
Kansas
Kentucky
Lousiana
Maryland
Massachussetts
Michigan
New Mexico
Ohio
Oklahoma
Pennsylvania
South Carolina
South Dakota
Texas
Utah
Virginia
Washington State
West Virginia
Wisconsin
Wyoming
Puerto Rico
Connecticut
Florida
Indiana
Minnesota
Missouri
Nebraska
North Carolina
Oregon
Tennessee
Washington DC
Theory Test & Driving Test
Alaska
American Samoa
California
Georgia
Guam
Hawaii
Maine
Montana
Nevada
New Hampshire
New Jersey
New York
North Dakota
Rhode Island
US Virgin Islands
Vermont
Gather your documents for exchanging your foreign driving license
Register with Driving School

Application form (from local driving licence authority) stamped by the driving school

First Aid Course certificate (book your first aid course here)

Biometric photo 35mm x 45mm

Eye test certificate

Foreign Driver's Licence

Passport

Application fee (usually around €40-60)

Meldebestätigung: Your first registeration in Germany (including date of entry and country of origin, obtain this from the Ausländerbehörde.
All the required documents need to be taken to the local driving licensing office.
For driving any vehicle, driving licence is mandatory in Germany. The rules for getting a German driving license vary where you come from. It's tricky for expats to get German driving license. If you have your own driving licence, you can drive any vehicle legally in Germany with your existing licence for atleast six months after residing in Germany. German driving licence application usually takes times between four to six weeks to process and you need to get admission in English Speaking Driving School before taking a test.
Introduction To Getting a German Driving Licence
German licence is just equivalent to a license from a non-EU member state. If you have a grant from a non-EU part state, you need to consider how long you are going to stay in Germany.
You can use your foreign license, if you stay for fewer than six months.
You need to get an extension for your international permit from the local Driver's License Department after six months, if you stay in Germany for six to twelve months.
You need German driving license, if you stay for longer than twelve months.
The B class driving license allows individuals to operate passenger cars and small trucks with a maximum weight of 3.5 tonnes. Here are the main limits of a B class driving license in Germany:
Maximum Weight Limit:  3.5 tonnes. 

Maximum Number of Passengers:  8 passengers, plus the driver (8+1 rule). 

Maximum Towing Limits: 750 kg. BE or B96 is needed to tow more.

Maximum Speed Limits: Autobahns typically 130 km/h (if not unlimited) and on urban roads 50 km/h.

Minimum Age Requirement: 18 years old. (Not including Begleitetes Fahren ab 17 BF17 )
If you applying or need a German driving licence, find out whether you have to clear a written exam or English theory exam and practical road test or need to clear any one of these exams or not at all. The requirements for applying a German driving licence, completely depends on your country of origin.
The B197 Driving License program combines driver training in an automatic car with additional manual training, so even if you take a driving test in an automatic car, you can drive a manual car without restrictions.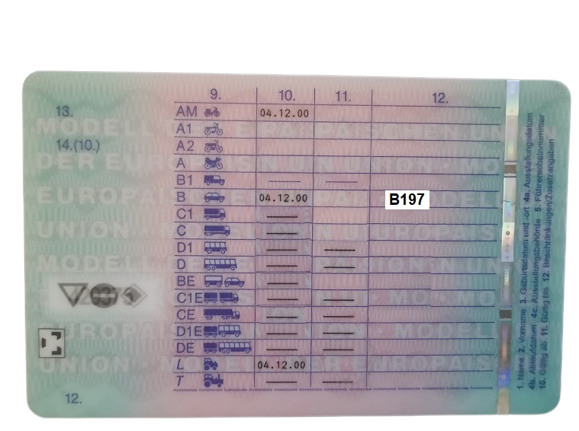 Further Requirements
The cost of applying for a German driver's license can be high due to the numerous necessary classes that applicants must attend. You might ask your instructor if he or she can give any specialized sessions or English driving lessons for experienced drivers if you already drive but need practice for the theoretical exam. Moreover, there are certain additional requirements for licenses for young drivers, truck, bus, or motorbike drivers.
Once you become able to exchange your old permit for a German driving license, you need some important following documents.
An official translation of your foreign driving permit

An application form for a German driving vehicle license

A passport or any ID card (and two photos)

Your German residence permit

A statement you received from your driving instructor that you passed the theoretical exam or the road test.

Proof that you have already taken a first-aid class recently

Proof that you have passed a medical vision test
Basically, German driving licences are valid for 15 years from the date of issue. To need to make appointment at your driving licence for renewing the licence. It is hard to renew a foreign driving licence in Germany. If you are an expat having foreign driving licence that is about to expire, you need to apply for German one.
Checklist for getting German Driving Licence
Driving Licence Application form (from the School)
Biometric photo 35mm x 45mm
Eyesight test results
Original Driving Licence
Passport
€68,50 processing fee
Meldebestätigung: Your first registeration in Germany (including date of entry and country of origin, obtain this from the Ausländerbehörde
Driving School Classes in English
Those you dont have licence from abroad have a legal requirement to take the 12 (45min) compulsory driving lessons and 14 (90 min) theory lessons
12 Compulsory driving lessons
B Roads
Motorway
Darkness
B Roads
Motorway
Darkness
14 Theory Classes in English
Class 1
Class 2
Class 3
Class 4
Class 5
Class 6
Class 7
Class 8
Class 9
Class 10
Class 11
Class 12
Class 13
Class 14
Class 1
Personal requirements / risk factor human
Physical abilities

Limitations of physical abilities

Alcohol

Illegal drugs and medication

Emotions

Self-image; driving ideals and driving roles
Class 2
Class 3
Class 4
Class 5
Class 6
Class 7
Class 8
Class 9
Class 10
Class 11
Class 12
Class 13
Class 14
FAQ Getting a German Driving Licence
Driving School Stuttgart
Get your German driver's license