Events in Stuttgart this Weekend
Things to do in Stuttgart this weekend
Check out our Events in Stuttgart
Stuttgarter Frühlingsfest
Stuttgart's spring festival is a celebration of the arrival of spring and is similar in style to Oktoberfest, with beer tents, amusement rides, and other attractions. Visitors can enjoy a variety of traditional German food and drinks, including beer, bratwurst, and pretzels. The festival also features carnival rides, games, and live music performances.
The festival is family-friendly and offers something for everyone, from the thrill-seekers on the amusement rides to the food and drink enthusiasts.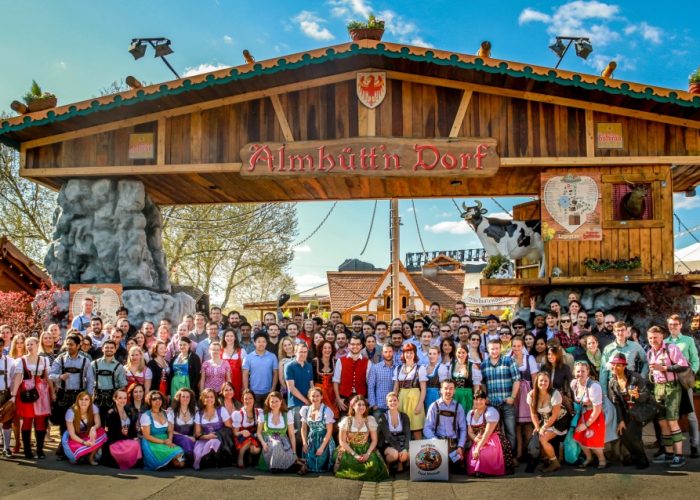 The Esslingen Weinwanderung is an annual wine festival and hiking event held in Esslingen am Neckar. While sipping on a selection of regional wines from the area's wineries, participants can take a trek through the vineyards that surround Esslingen. Along the hiking path, there are merchants selling traditional German food and drink in addition to the wine.
Stuttgart summer festival is the most upmarket outdoor event in Stuttgart is Sommerfest. Every year in the beginning of August, a half million people come to stuttgart's city center. A magical landscape of white tents, pagodas, and vivid illuminations is built around the opera house and old castle.
In contrast to other outdoor festivals, even the food is unique. You will be overwhelmed by the variety of delicacies offered by renowned restaurants in Stuttgart and the surrounding region. All are welcome, including prosecco, mussels, salmon, beef fillet, and expensive beverages. You won't want to miss the Stuttgart summer festival, whether it's during the day or at night.
Ballet im Park Stuttgart is an annual outdoor ballet event held in the beautiful setting of Killesberg Park in Stuttgart, Germany. The event showcases the talent of the Stuttgart Ballet company, one of the world's most renowned ballet companies.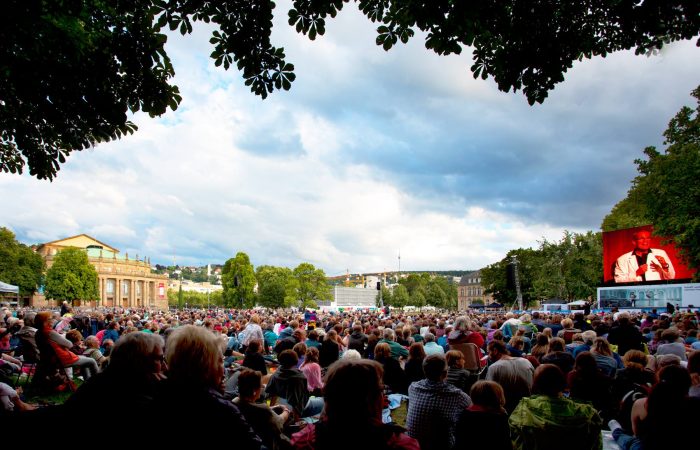 Clas­sics and Cof­fee Stuttgart
Classics and Coffee Stuttgart is a monthly event that brings together classic car enthusiasts and coffee lovers at Mercedes Benz Museum, a stunning automotive center that is home to a collection of classic and vintage cars. Together with the porsche museum the Mercedes Benz Museum is one of the top tourist attractions when visiting stuttgart.
The event is a casual gathering, where car enthusiasts can come together to enjoy a cup of coffee while admiring some of the most beautiful classic cars in the world. While there check out the museum's extensive collection of Mercedes cars.
Every June, the Heusteigviertelfest takes place. The Heusteigviertel is dotted with cafes and inventive businesses and features stunning Gründerzeit and Art Nouveau buildings.
The street festival, which has been held on Mozartstraße in the city center for more than 40 years, features foreign cuisine, live music, and art. The festival's Sunday always includes a sizable flea market as well as a performance program performed by local groups and schools.
Jazz Open Stuttgart is an annual music festival that takes place in the heart of Stuttgart, Germany. The festival offers a wide variety of jazz music, from traditional jazz and swing to fusion and contemporary styles. The performances take place across multiple stages throughout the stuttgart city, with a focus on the picturesque Schlossplatz square, which provides an open-air atmosphere for the performances.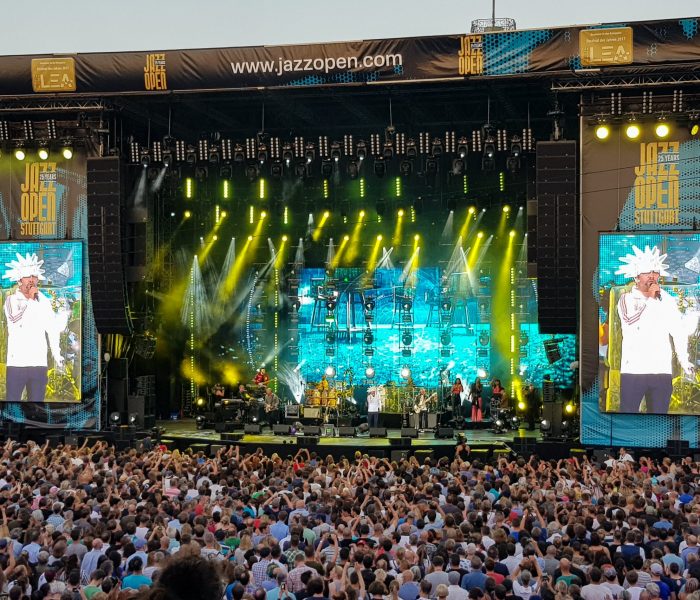 Kessel Festival is known for its diverse lineup, featuring a range of international and local artists from various genres of music, such as electronic, hip-hop, pop, and rock.
The festival takes place in the city's Kulturinsel area, an open-air venue with multiple stages, food and drink vendors, and other activities. The festival also features various art installations, performances, and other cultural events, adding to the vibrant and dynamic atmosphere. The festival's focus on sustainability and environmentalism is also reflected in its efforts to reduce waste and promote eco-friendly practices.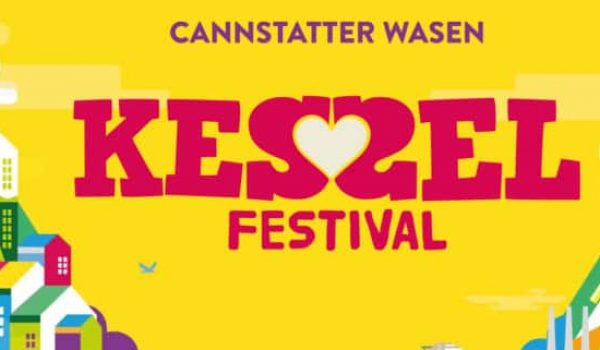 Bohnenviertelfest Stuttgart
Every year at the end of July in the Bohnenviertel, there is a street event called the Bean District event. This area was given its original name because many of its predominantly working-class residents grew beans in their gardens. The Bohnenviertel is a fantastic destination today for musical performances, family activities, vendor booths for handmade goods, and food kiosks.
Hamburger Fischmarkt in Stuttgart
Visitors to the Hamburger Fischmarkt in Stuttgart can sample a range of seafood, including grilled fish, shrimp, oysters, and more, along with traditional German street food and other snacks. The market also features live music and entertainment, making it a festive and fun event for all ages.
The Hamburger Fischmarkt is a great opportunity for visitors to experience the unique food culture of Hamburg, and to try a variety of seafood dishes that may not be available elsewhere. The event attracts both locals and tourists, and offers a fun and memorable way to enjoy a taste of the coast in the heart of Stuttgart.
Cann­stat­ter Wa­sen 2023
Cannstatter Wasen is the second largest beer festival in the world after Oktoberfest, and attracts millions of visitors every year. Visitors can enjoy a wide variety of activities, rides, and food. Traditional German food such as roasted chicken, bratwurst, and pretzels, as well as beer from local breweries are served in the numerous beer tents throughout the festival grounds.
In addition to the food and drink, there are also numerous carnival rides, including roller coasters, Ferris wheels, and bumper cars, as well as games and other activities for visitors of all ages. The festival also features a parade, fireworks, and live music performances from both local and international artists.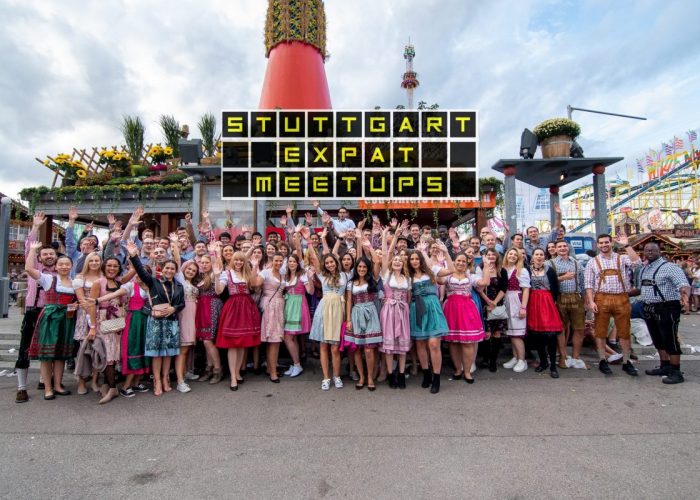 Stuttgart Wine Village is an annual wine celebration of the region's wine culture and cuisine. Visitors can sample a variety of local wines from the Stuttgart region, along with traditional German food and snacks. The festival is also a cultural event, with live music performances and other entertainment options. Weindorf Stuttgart is a popular event among locals and tourists alike, and offers a unique way to experience the city's culture and cuisine just a few 100m from the main train station.
Esslingen Christmas Market
Esslingen Christmas Market, also known as Esslinger Mittelaltermarkt und Weihnachtsmarkt, is an annual Christmas market held in the picturesque medieval town of Esslingen.
The market features over 200 stalls, selling a wide variety of traditional handmade crafts, gifts, and food. Visitors can sample traditional German delicacies, such as bratwurst, roasted chestnuts, and gingerbread cookies, and warm themselves with a cup of mulled wine, called Glühwein, as they stroll through the festive atmosphere.
Stutt­gar­ter Weih­nachts­markt
Stuttgarter Weihnachtsmarkt, also known as Stuttgart Christmas Market, is an annual Christmas market held near the old castle not far from the main train station. The market features over 290 stalls selling specialty foods and a variety of traditional handmade crafts. Visitors can experience the festive atmosphere in the heart of Stuttgart's historic city center, surrounded by charming architecture and illuminated by the warm glow of holiday lights.
Stuttgart Christmas Garden
The Stuttgart Christmas Garden is held in the Wilhelma Zoo (just across from the neckar river) and features a variety of light displays and installations that illuminate the gardens and create a festive atmosphere.
Visitors can stroll through the gardens and enjoy a range of light displays, from sparkling trees and shimmering tunnels to colorful animal sculptures and stunning projections.
ChocolART Tübingen is a celebration of all things chocolate, and features a wide variety of chocolate vendors, workshops, and other chocolate-themed activities. Visitors can sample a variety of high-quality chocolates from artisanal chocolatiers from around the world, and learn about the history and culture of chocolate. There are also workshops and demonstrations on topics such as chocolate-making and pairing chocolate with wine or coffee.
In addition to the chocolate offerings, ChocolART Tübingen also features live music performances, art installations, and other cultural events.